KOSTER Receives Starnet 2017 Silver Design Award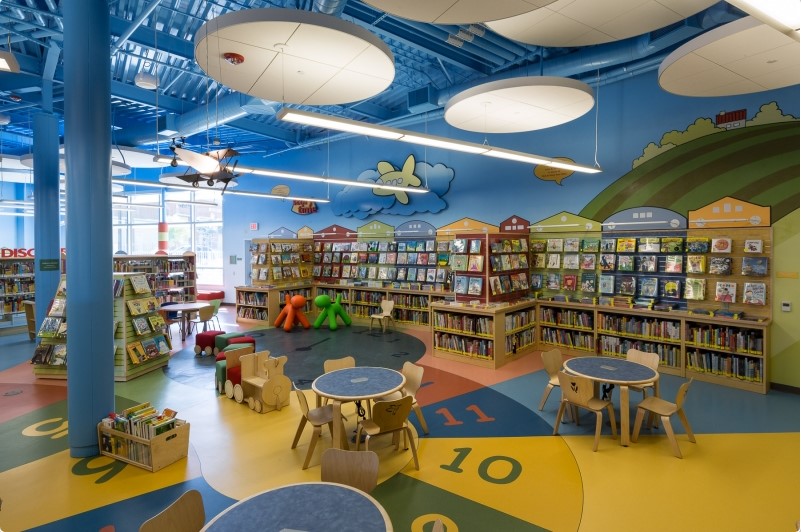 The Village Square Branch Library is a brand-new Community Library, serving the needs of South East San Jose, Cal. This 16,000-sq. ft. facility, besides being a full service Public Library, includes many Community Areas, a Tech Center, Children's Library Area, as well as Outdoor Patio Spaces, for an engaging community experience

GOALS OF THE DESIGN: Adjacent to an actual Village Square, this bright and colorful Community Building was designed to be a welcome addition to this young family-oriented neighborhood environment. With clerestory windows, an open floor plan, and an enticing interior color pallet, this project brought together an assortment of flooring surfaces, to create thoughtful, inviting, interior spaces. Incorporating round insets of Carpets within Carpet, Seating/Reading Areas were set apart from the Book-stacks. And, by using playful insets of various colored resilient flooring (1,700 yds.), the Architect created curvilinear pathways directing traffic flows. Adding a radian design, inset numbers and clock face to the floor design, along with brightly painted wall surfaces, keeps the Children's Area inviting & playful.

Careful application of Floor prep materials, including KOSTER VAP I 2000 Concrete Vapor Emission Control system, combined with expert installation, following seam layout drawings, resulted in the final execution of the Architect's vision.
Architect: Tetra-lBl Group / BFGC- lBl Group JV
Contractor: Harry L. Murphy
Read More:
http://designawards.starnetflooring.com/gallery/entry/?entry_id=701